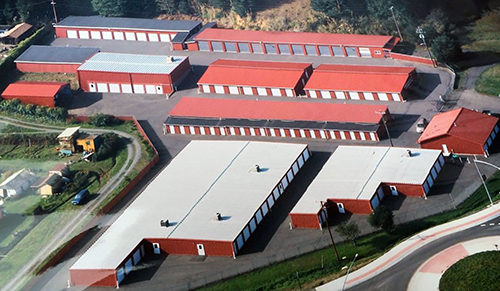 Not all self-storage units in Eureka, Humboldt County, Fairhaven, Samoa, Cutten, Myrtletown, or Rosewood, CA are created the same. At Indianola Storage, we aim to set ourselves apart from the crowd and raise the bar for your expectations! We don't just provide you with a simple space to call your own—we also offer our renters all of the amenities they need to feel confident about leaving their belongings with us.
Standard Units
We offer extremely well-kept self-storage units in Eureka, CA and always make sure to clean them between renters, so you're getting a fresh unit that's welcoming and well-maintained. Our unit sizes range from 5'x5' to 12'x24' and we'll gladly consult with you about the size that's right for your needs. Whether you're a college student who just needs a small unit for the short-term or you're looking to house furniture and other items long-term, we've got the ideal space for you.
Climate-Controlled Storage Units
Housing items that are sensitive in nature or require consistent monitoring when it comes to temperature and humidity? Our climate-controlled storage units in Eureka, CA are waiting for you! These units range in size from 5'x5' to 10'x17' and are equipped with everything necessary to stay perfectly calibrated over the long term. They're great for housing electronics, antiques and other valuables that need a little extra care while in storage.

Security Features
More than just offering great climate-controlled storage units, our facilities are also designed to give you complete peace of mind about storing with us. Our entire facility is gated, with an access code required to enter. We also have security cameras located throughout for CCTV monitoring at all times. Plus, every single one of our self-storage units is outfitted with an alarm, to deter break-ins and unauthorized access! We go out of our way to make sure you and your items are always safe.
Ready to start renting a storage unit with us? Contact us today at 707-442-7613 for more information about unit availability and rental terms.
No Climate
| | |
| --- | --- |
| 5×5 | $60 |
| 5×7 | $65 |
| 5×9 | $70 |
| 5×10 | $75 |
| 8×8 | $80 |
| 7×10 | $85 |
| 8×10 | $95 |
| 10×10 | $125 |
| 9×12 | $125 |
| 10×12 | $135 |
| 10×15 | $145 |
| 10×16 | $145 |
| 10×20 | $165 |
| 12×18 | $165 |
| 10×24 | $170 |
| 12×24 | $180 |
| 15×20 | $210 |
Climate Controlled
| | |
| --- | --- |
| 5×5 | $70 |
| 5×9 | $80 |
| 5×10 | $85 |
| 7×9 | $95 |
| 5×13 | $95 |
| 5×14 | $100 |
| 7×10 | $100 |
| 5×15 | $110 |
| 8×10 | $110 |
| 5×18 | $115 |
| 10×10 | $145 |
| 10×14 | $165 |
| 10×15 | $168 |
| 10×17 | $175 |